Butlletí d'abril, número 189
VII JORNADES FEMINISTES. IMPACTES DE LA VIOLÈNCIA OBSTÈTRICA I EXPERIÈNCIES SUPERADORES
MATERIALS PER A LA INCORPORACIÓ DE LA PERSPECTIVA DE GÈNERE EN LA DOCÈNCIA
| | |
| --- | --- |
| | |
| | |
| | |
Recursos personalitzats per a les escoles i facultats de la UdL (
en construcció

)
Recursos per a la introducció de la perspectiva de gènere en la recerca
Altres recursos de la UdL
JORNADA LA DONA DAVANT ELS REPTES DEL TREBALL 4.0
VII JORNADES FEMINISTES. IMPACTES DE LA VIOLÈNCIA OBSTÈTRICA I EXPERIÈNCIES SUPERADORES
Dia: 26 d'abril
Modalitat: en línia
Inscripció per al públic en general:

Aquesta adreça de correu-e està protegida dels robots de spam.Necessites Javascript habilitat per veure-la.

Més informació: programa
INFOACTIVA'T AL CASAL DE LA DONA (MES D'ABRIL)
Jornades, congressos, seminaris i conferències
JORNADA: "LA VIOLÈNCIA DE GÈNERE A L'OMBRA"
Dia: 27 d'abril
Hora: 9:30 h
Lloc: Universitat Carles III (presencial). Virtual
Inscripció: del 21/03 al 24/04
Es lliurarà un certificat d'assistència a la Jornada a les persones participants.
CALL FOR PAPERS. "INTELIGENCIA ARTIFICIAL & GÉNERO. BRECHAS, SESGOS Y NUEVAS FORMAS DE DESIGUALDAD"
Aspira a analitzar, debatre i promoure la inclusió de la perspectiva de gènere en els processos de disseny, implementació i control dels sistemes algorísmics, amb el propòsit ferm de combatre l'abast lesiu que l'avenç digital està provocant en el ple exercici dels drets. i llibertats de les dones.
PREMI ÁNGELES DURÁN
Es convoca la 10a edició del Premi Ángeles Durán d'Innovació Científica a l'Estudi de les Dones i del Gènere.
Termini: 10 d'abril de 2022
V PREMI DE PERIODISME FEMINISTA MARÍA LUZ MORALES
El premi té per objectiu incentivar treballs periodístics que tractin sobre l'apoderament de les dones i els feminismes en qualsevol dels seus vessants. El termini de presentació dels treballs serà el 10 de juny de 2022 a les 15h.
III EDICIÓ DEL PREMI TALGO A L'EXCEL·LÈNCIA PROFESSIONAL DE LA DONA A L'ENGINYERIA
El termini per a la presentació de les candidatures finalitzarà el 30 d'abril del 2022 a les 21:00h CET i podrà realitzar-se a través del formulari digital de la pàgina web del Premi
INFOGRAFIES DINÀMIQUES O VIDEOS ANIMATS
Projecte de caràcter mensual amb la idea de visibilitzar la situació actual de les dones en els diferents àmbits de la societat, per posar de manifest i divulgar les diferències existents avui dia.
Podeu consulta la primera infografia en aquest enllaç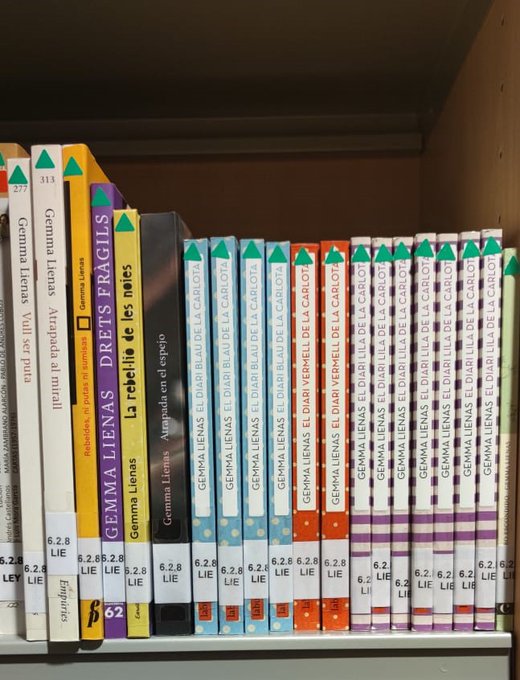 L'escriptora Gemma Lienas Massot ha fet una donació d'una vintena de llibres seus al Centre d'Estudis i Documentació de les Dones, entre d'altres: La Rebel·lió de les noies, Rebeldes: ni putas ni sumisas, Drets fràgils, Atrapada al mirall, Un tresor amagat, El diari lila de la Carlota, i molts més!

Tots els llibres de la Gemma Lienas Massot es troben al CEDD (6.2.8 LIE)
Carrer Jaume II, 69
Centre de Cultures i Cooperació Transfronterera
Biblioteca de la Universitat de Lleida-Campus de Cappont Sala 1.1
GENDERED INNOVATIONS
1. UK Research and Innovation recently announced its new SABV policy.
2. The Shape of Our Bias: Perceived Age and Gender in the Humanoid Robots of the ABOT Database. G Perugia, S Guidi, M Bicchi, O Parlangeli - Proceedings of the 2022 ACM/IEEE …, 2022 The present study was aimed at determining the age and gender distribution of the humanoid robots in the ABOT dataset, and providing a systematic data-driven formalization of the process of age and gender categorization of humanoid robot...
3. Inclusive HRI: Equity and Diversity in Design, Application, Methods, and Community M de Graaf, G Perugia, E Fosch-Villaronga, A Lim… - Proceedings of the 2022 …, 2022 Discrimination and bias are pressing issues of many AI and robotics applications. These outcomes may derive from limited datasets that do not fully represent society as a whole or from the AI scientific community's western-male configuration bias …
4. The latest issue of Women's Health in Focus at NIH explores NIH research efforts to understand and address medical problems common among transgender women, individuals whose sex assigned at birth was male but who identify as women.
5. Best Practices in the Study of Gender I Klinge - 2022 Integrating sex- and gender-related aspects into research and innovation content has become an urgent requirement of major science funding bodies as f.e. the European Commission, the Canadian Institutes of Health Research and the US NIH/Office of Women's Health Research.
It was the only right response in reaction to the documented failure of the 'one size fits all' approach in traditional biomedical research practices. Attention to sex differences seems to be taken up by researchers quite well, however integrating a gender analysis has met with difficulties. Of prime importance here is to consider gender as a multidimensional concept, covering gender norms, gender identities and gender relations. A research design should clarify from the outset whether gender norms, identities or relations are of relevance to the research question at hand. This chapter provides an overview of international policies insisting on integrating a sex, gender and intersectional analysis into research and innovation with a focus on the gender equality policy of the European Union. Next, more in depth, a collection of best practices, to be understood as a coherent set of processes and activities, corresponding to the starting points, theories and evidence of the field concerned of which it can be expected to contribute to the intended results in a particular context is described. Finally some challenges ahead are identified.
6. Assessing and addressing cardiovascular health in people who are transgender and gender diverse: A scientific statement from the American heart association CG Streed Jr, LB Beach, BA Caceres, NL Dowshen… - Circulation, 2021 - Am Heart Assoc There is growing evidence that people who are transgender and gender diverse (TGD) are impacted by disparities across a variety of cardiovascular risk factors compared with their peers who are cisgender. Prior literature has characterized disparities in cardiovascular morbidity and mortality as a result of a higher prevalence of health risk behaviors. Mounting research has revealed that cardiovascular risk factors at the individual level likely do not fully account for increased risk in cardiovascular health disparities among people who are TGD…
7. The importance of gender to understand sex differences in cardiovascular disease PJ Connelly, Z Azizi, P Alipour, C Delles, L Pilote… - Canadian Journal of …, 2021 - Elsevier Cardiovascular disease (CVD) is the leading cause of morbidity and mortality worldwide. There is robust evidence of heterogeneity in underlying mechanism, manifestation, prognosis, and response to treatment of CVD between male and female patients. Gender, which refers to the socially constructed roles, behaviours, expressions, and dentities of individuals, is an important determinant of CV health, and its consideration might help in attaining a broader understanding of the observed sex differences in CVD. Established risk …
8. Sex contextualism S Richardson - Philosophy, Theory, & Practice in Biology, 2021 This paper develops the conceptual framework of "sex contextualism" for the study of sex-related variables in biomedical research. Sex contextualism offers an alternative to binary sex essentialist approaches to the study of sex as a biological variable. Specifically, sex contextualism recognizes the pluralism and context-specificity of operationalizations of 'sex' across experimental laboratory research. In light of recent policy mandates to consider sex as a biological variable, sex contextualism offers constructive guidance to biomedical researchers for attending to sex-related biological variation. As an alternative to and critique of biological binary sex essentialism, sex contextualism contributes to current debates in philosophy of biology, feminist science studies, and social ontology on the construction of categories of gender/sex differences in scientific research.
CATALÀ INCLUSIU I NATURAL
Guia Català inclusiu i natural. Es tracta d'un document centrat en el llenguatge inclusiu que, d'una banda, repassa els usos, estructures i convencions sexistes, androcèntriques
i similars que encara perviuen en el català, com en la majoria de les llengües, i que, de l'altra, recomana maneres per evitar-les.
GUIA PER INCORPORAR LA PERSPECTIVA DE GÈNERE AL MÓN DEL TEATRE
La guia Cap a un teatre feminista està dirigida a persones professionals del teatre i institucions culturals interessades a adquirir eines per incorporar la perspectiva de gènere en la seva tasca diària: escoles de teatre, professionals de la formació en arts escèniques (amateur i professional), professionals de la dramatúrgia, professionals de la direcció escènica, intèrprets, professionals de la programació d'espectacles, professionals de l'àmbit tècnic de les arts escèniques, amants i professionals de l'àmbit de la cultura.
RECURSOS D'AUTODEFENSA DIGITAL FEMINISTA
En aquesta pàgina recopilem materials perquè puguis enfrontar la violència masclista en línia i organitzar les estratègies d'autodefensa.
INFORME: "DONES I INNOVACIÓ 2022"
LES DONES SOSTENEN LA VIDA EN TEMPS DE GUERRA
Edició d'un dossier de premsa digital recopilatori de les principals notícies aparegudes a Espanya sobre els riscos que corren i els recursos i la resiliència desplegats per les dones i els nens i nenes des que es va iniciar la invasió d'Ucraïna per part de Rússia.
LES POLÍTIQUES DE GÈNERE A CATALUNYA, A DEBAT" JORNADA MONOGRÀFICA DE LA REAF-JSG
III JORNADES PER A LA IGUALTAT DE GÈNERE DIGITAL
Centre d'Igualtat d'Oportunitats i Promoció de les Dones Dolors Piera

Campus de Cappont (edifici polivalent)

Carrer de Jaume II, 71 (despatx 0.20)

25001 Lleida